If you are looking for a laptop under a budget of 30,000 for normal use and completing education and business related task then these normal budget laptop is a good option. Under the price range of 30000, you can hardly get an intel i3 processor laptop which is good for creating spreadsheets, presentations and running the normal applications, entertainment purposes, and internet surfing.
The list includes the best laptops from the popular brand's HP, Lenovo, Acer, and more. Choose the one from the list which suits your need and works culture. list.
Note:- These are the budget laptops for completing daily work and playing low profile games for kids. For an ultimate gaming experience, you can buy the best gaming performance laptop for multipurpose work and gaming.
1. Lenovo V-14 IIL Thin & Light Laptop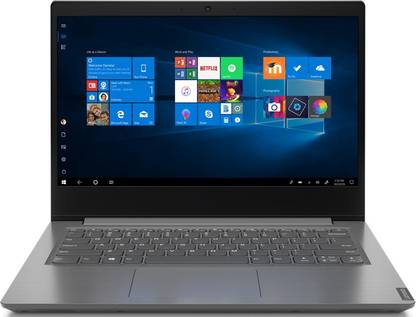 | | |
| --- | --- |
| Display | 14 Inch (1366 x 768) HD LED-Backlit Anti-Glare Display |
| Processor | Intel Core i3 (10th Gen) Processor, 1.2 GHz with Turbo Boost Upto 3.4 GHz |
| RAM | 4 GB DDR4 |
| Graphics Card | Intel Integrated UHD |
| Storage | 1 TB HDD |
| Web Camera | 0.3 MP Camera |
| Battery | Upto 5.5 Hour |
BUY FROM FLIPKART BUY FROM AMAZON
2. Acer Aspire A315-42-R7HL Laptop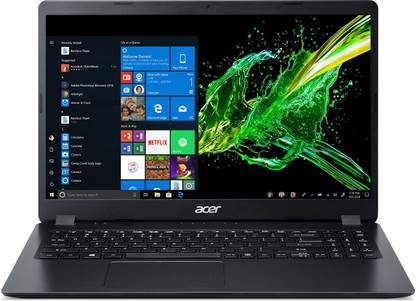 | | |
| --- | --- |
| Display | 15.6 Inch (1366 x 768) HD LED Backlit TFT LCD Display |
| Processor | AMD Ryzen 3 Dual-Core Processor, 2.1 GHz with Turbo Boost Upto 3.5 GHz |
| RAM | 4 GB DDR4 |
| Graphics Card | AMD Radeon Vega 6 |
| Storage | 1 TB HDD |
| Web Camera | HD Camera |
| Battery | Upto 7 Hour |
BUY FROM FLIPKART BUY FROM AMAZON
3. Lenovo Ideapad S145-15API Thin & Light Laptop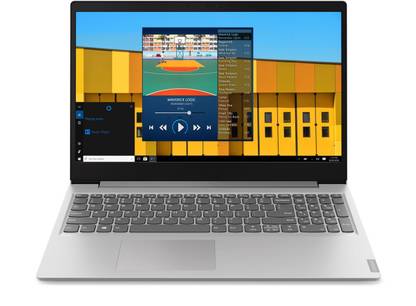 | | |
| --- | --- |
| Display | 15.6 Inch (1920 x 1080) Full HD LED Backlit Anti-glare TN Display |
| Processor | AMD Ryzen 3 Dual-Core Processor, 2.6 GHz with Turbo Boost Upto 3.5 GHz |
| RAM | 4 GB DDR4 |
| Graphics Card | AMD Radeon Vega 3 |
| Storage | 1 TB HDD |
| Web Camera | 0.3 MP Camera |
| Battery | Upto 4 Hour |
BUY FROM FLIPKART BUY FROM AMAZON
4. Lenovo Ideapad 15ADA05 Laptop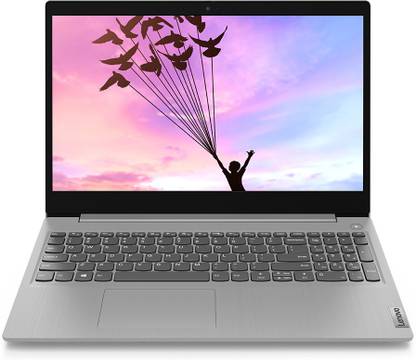 | | |
| --- | --- |
| Display | 15.6 Inch (1920 x 1080) Full HD LED Backlit Anti-glare TN Display |
| Processor | AMD Ryzen 3 Dual-Core Processor, 2.6 GHz with Turbo Boost Upto 3.5 GHz |
| RAM | 4 GB DDR4 |
| Graphics Card | AMD Radeon |
| Storage | 1 TB HDD |
| Web Camera | 0.3 MP Camera |
| Battery | Upto 5 Hour |
BUY FROM FLIPKART BUY FROM AMAZON
5. HP 14S- DQ3018TU Thin & Light Laptop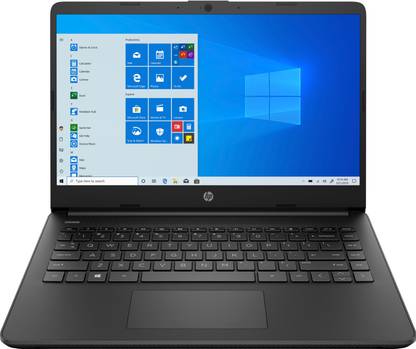 | | |
| --- | --- |
| Display | 14 Inch (1366 x 768) HD Micro-Edge Bright View IPS Display |
| Processor | Intel Pentium Quad-Core Processor, 1.2 GHz with Turbo Boost Upto 3.3 GHz |
| RAM | 8 GB DDR4 |
| Graphics Card | Intel Integrated UHD |
| Storage | 256 GB SSD |
| Web Camera | HD Camera |
| Battery | Upto 12 Hour |
BUY FROM FLIPKART BUY FROM AMAZON
6. HP 15S-GY0003AU Thin & Light Laptop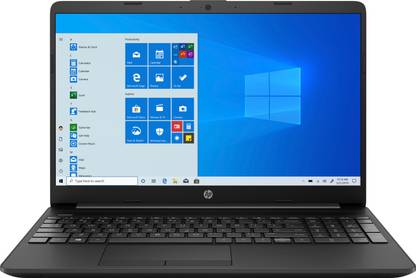 | | |
| --- | --- |
| Display | 15.6 Inch (1366 x 768) HD WLED Backlit BrightView Micro-edge Display |
| Processor | AMD Dual-Core Processor, 1.2 GHz with Turbo Boost Upto 2.6 GHz |
| RAM | 4 GB DDR4 |
| Graphics Card | AMD Radeon |
| Storage | 1 TB HDD |
| Web Camera | HD Camera |
| Battery | Upto 12 Hour |
BUY FROM FLIPKART BUY FROM AMAZON
7. HP 15S-DU1052TU Thin and Light Laptop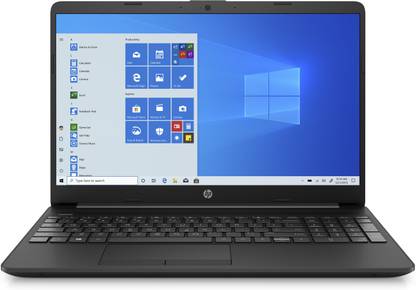 | | |
| --- | --- |
| Display | 15.6 Inch (1366 x 768) HD WLED Backlit BrightView Micro-edge Display |
| Processor | Intel Pentium Gold Processor, 1.2 GHz with Turbo Boost Upto 2.4 GHz |
| RAM | 4 GB DDR4 |
| Graphics Card | Intel Integrated UHD |
| Storage | 1 TB HDD |
| Web Camera | HD Camera |
| Battery | Upto 12 Hour |
BUY FROM FLIPKART BUY FROM AMAZON
8. Lenovo V-15 ADA Laptop
| | |
| --- | --- |
| Display | 15.6 Inch (1920 x 1080) Full HD TN Anti-Glare Display |
| Processor | AMD Athlon Dual Core Processor, 2.3 GHz with Turbo Boost Upto 3.2 GHz |
| RAM | 4 GB DDR4 |
| Graphics Card | AMD Radeon |
| Storage | 1 TB HDD |
| Web Camera | 0.3 MP Camera |
| Battery | Upto 5 Hour |
BUY FROM FLIPKART BUY FROM AMAZON
9. Asus X543MA-GQ1020T Laptop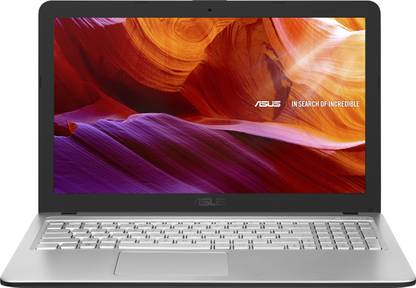 | | |
| --- | --- |
| Display | 15.6 Inch (1366 x 768) HD LED Backlit Anti-glare Display |
| Processor | Intel Pentium Quad Core Processor, 1.1 GHz with Turbo Boost Upto 3.1 GHz |
| RAM | 4 GB DDR4 |
| Graphics Card | Intel Integrated UHD |
| Storage | 1 TB HDD |
| Web Camera | VGA Camera |
| Battery | Upto 7 Hour |
BUY FROM FLIPKART BUY FROM AMAZON
10. Asus X543MA-GQ1015T Laptop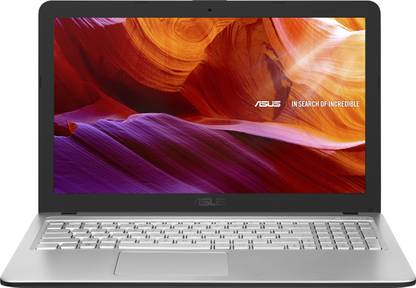 | | |
| --- | --- |
| Display | 15.6 Inch (1366 x 768) HD LED Backlit Anti-glare Display |
| Processor | Intel Celeron Dual Core Processor, 1.1 GHz with Turbo Boost Upto 2.8 GHz |
| RAM | 4 GB DDR4 |
| Graphics Card | Intel Integrated UHD |
| Storage | 1 TB HDD |
| Web Camera | HD Camera |
| Battery | Upto 6 Hour |
BUY FROM FLIPKART BUY FROM AMAZON
---
Best Laptops under Rs.20000 | Best Tablets Under Rs.15000 | Best Camera Smartphones | Headphones under Rs.2000