MSI is a world-leading gaming brand, MSI leverages its remarkable R&D strengths to craft top-notch, well-acclaimed motherboards, graphics cards, notebook PCs, and others. We have listed the top best MSI gaming laptop under 80000 price range. These laptops deliver ultimate gaming experience, fueled by the fastest performance, most advanced gaming technologies, and the best gaming ecosystem. It means you can play any of your favorite games in these high-end gaming machines.
These laptops powered by the GeForce GTX 10-Series GPUs give you up to 3X the performance of previous-generation GPUs. The NVIDIA's latest GeForce® GTX 1050 Ti GPU releases its full performance completely on MSI gaming laptops. 3D performance of GeForce® GTX 1050 Ti GPU is better than GeForce® GTX 970M graphics.
Expand the vision for the extreme gaming experience. Its Matrix Display supports 4K output with a resolution up to 3840 x 2160. MSI Matrix Display technology creates an ideal environment for extreme gaming experience and pleasant multimedia entertainment.
1. MSI GV62 7RE-2401IN Gaming Laptop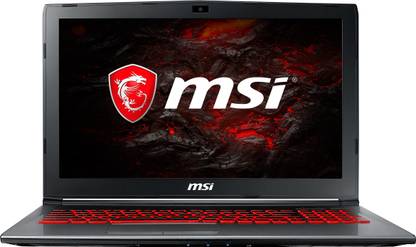 | | |
| --- | --- |
| Display | 15.6 Inch (1920 x 1080) Full HD LED Backlit Wideview Anti-glare Display |
| Processor | Intel Core i7 (7th Gen) Processor, 2.8 GHz with Turbo Boost Upto 3.8 GHz |
| RAM | 8 GB DDR4 |
| Graphics Card | 4GB – NVIDIA Geforce GTX 1050 Ti |
| Storage | 1 TB HDD | 128 GB SSD |
| DVD Writer | Not Available |
| Web Camera | HD Camera |
| Battery | 6-cell |
2. MSI GV62 7RD-2297XIN Gaming Laptop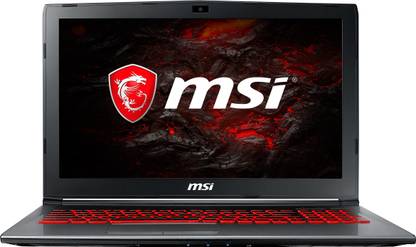 | | |
| --- | --- |
| Display | 15.6 Inch (1920 x 1080) Full HD LED Backlit Wideview Anti-glare Display |
| Processor | Intel Core i7 (7th Gen) Processor, 2.8 GHz with Turbo Boost Upto 3.8 GHz |
| RAM | 8 GB DDR4 |
| Graphics Card | 4GB – NVIDIA Geforce GTX 1050 |
| Storage | 1 TB HDD |
| DVD Writer | Not Available |
| Web Camera | HD Camera |
| Battery | 6-cell |
   BUY FROM FLIPKART    BUY FROM AMAZON
3. MSI  PE62 7RD Gaming Laptop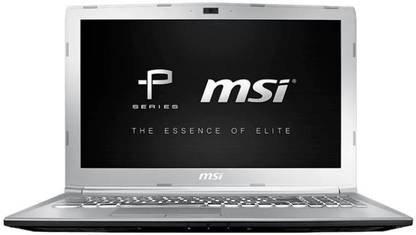 | | |
| --- | --- |
| Display | 15.6 Inch (1920 x 1080) Full HD LED Backlit Anti-glare Display |
| Processor | Intel Core i7 (7th Gen) Processor, 2.8 GHz with Turbo Boost Upto 3.8 GHz |
| RAM | 16 GB DDR4 |
| Graphics Card | 4GB – NVIDIA Geforce GTX 1050 |
| Storage | 1 TB HDD |
| DVD Writer | Not Available |
| Web Camera | HD Camera |
| Battery | 6-cell |
   BUY FROM FLIPKART    BUY FROM AMAZON
4. MSI  GL62M 7RDX-2681IN Gaming Laptop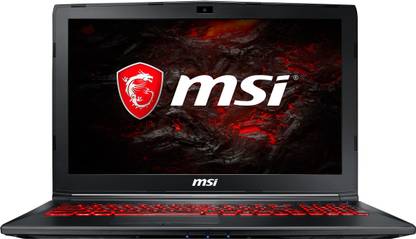 | | |
| --- | --- |
| Display | 15.6 Inch (1920 x 1080) Full HD LED Backlit Anti-glare Display |
| Processor | Intel Core i7 (7th Gen) Processor, 2.8 GHz with Turbo Boost Upto 3.8 GHz |
| RAM | 8 GB DDR4 |
| Graphics Card | 4GB – NVIDIA Geforce GTX 1050Ti |
| Storage | 1 TB HDD | 128 GB SSD |
| DVD Writer | Not Available |
| Web Camera | HD Camera |
| Battery | 6-cell |
   BUY FROM FLIPKART    BUY FROM AMAZON
5. MSI  GL62M 7RDX-2680IN Gaming Laptop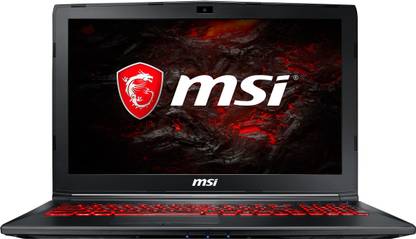 | | |
| --- | --- |
| Display | 15.6 Inch (1920 x 1080) Full HD LED Backlit Anti-glare Display |
| Processor | Intel Core i7 (7th Gen) Processor, 2.8 GHz with Turbo Boost Upto 3.8 GHz |
| RAM | 8 GB DDR4 |
| Graphics Card | 4GB – NVIDIA Geforce GTX 1050 |
| Storage | 1 TB HDD |
| DVD Writer | Not Available |
| Web Camera | HD Camera |
| Battery | 6-cell |
   BUY FROM FLIPKART    BUY FROM AMAZON
6. MSI  CX62-7QL Gaming Laptop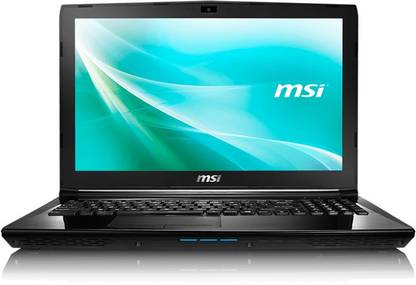 | | |
| --- | --- |
| Display | 15.6 Inch (1920 x 1080) Full HD LED Backlit Display |
| Processor | Intel Core i7 (7th Gen) Processor, 2.7 GHz with Turbo Boost Upto 3.5 GHz |
| RAM | 4 GB DDR4 |
| Graphics Card | 2GB – NVIDIA Geforce GTX 940MX |
| Storage | 1 TB HDD |
| DVD Writer | Available |
| Web Camera | HD Camera |
| Battery | 6-cell |
   BUY FROM FLIPKART    BUY FROM AMAZON