Gaming laptops are specially designed for fast processing speed and ultimate graphics and gaming performance. A Gaming machine requires the latest technology CPU. Which converts the data input to information output. A good CPU makes this process fast and your gaming machine work smoothly.
If you are a gaming freak then you need a high-performance gaming machine that can full-fill your gameplay needs without any performance issue. We have compiled a list of the best gaming laptop that comes with the latest built technology and components. Under the budget of 1 lakh INR, you can get the latest generation an i5 or i7 processor laptop with a dedicated graphics card and 8 to 16 GB of RAM.
RAM is used for most of the internal temporary, "working memories" memory you find in PCs, games consoles. It helps to start a computer program fastly and minimizing power consumption (and maximizing battery life.
A graphics card provides high-quality visual display by processing and executing graphical data using advanced graphical techniques, features, and functions.
1. MSI 9SEXR-1043IN Gaming Laptop
| | |
| --- | --- |
| Display | 15.6 Inch (1920 x 1080) Full HD LED Backlit Anti-glare IPS Display |
| Processor | Intel Core i7 (9th Gen) Processor, 2.6 GHz with Turbo Boost Upto 4.5 GHz |
| RAM | 16 GB DDR4 |
| Graphics Card | 6GB – NVIDIA Geforce RTX 2060 |
| Storage | 512 GB SSD |
| DVD Writer | Not Available |
| Web Camera | HD Camera |
| Battery | 3-cell |
2. Asus ROG Strix G512LI-HN060T Laptop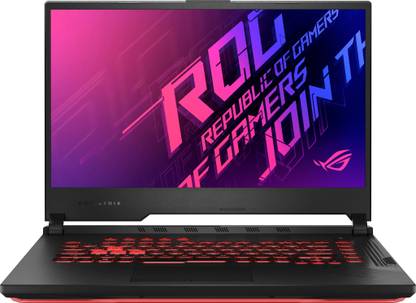 | | |
| --- | --- |
| Display | 15.6 Inch (1920 x 1080) Full HD LED Backlit Anti-glare IPS-Level Display |
| Processor | Intel Core i7 (10th Gen) Processor, 2.6 GHz with Turbo Boost Upto 5.0 GHz |
| RAM | 8 GB DDR4 |
| Graphics Card | 4GB – NVIDIA Geforce GTX 1650 Ti |
| Storage | 1 TB SSD |
| DVD Writer | Not Available |
| Web Camera | Not Available |
| Battery | 3-cell |
3. HP Omen 15-EN0001AX Gaming Laptop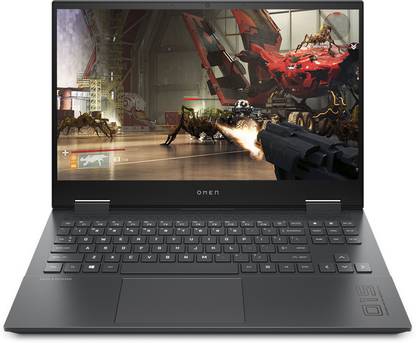 | | |
| --- | --- |
| Display | 15.6 Inch (1920 x 1080) Full HD LED Backlit Display |
| Processor | AMD Ryzen 5 Hexa Core Processor, 3.0 GHz with Turbo Boost Upto 4.0 GHz |
| RAM | 8 GB DDR4 |
| Graphics Card | 4GB – NVIDIA Geforce GTX 1650 Ti |
| Storage | 512 GB SSD |
| DVD Writer | Not Available |
| Web Camera | HD Camera |
| Battery | 3-cell |
   BUY FROM FLIPKART    BUY FROM AMAZON
4. Asus ROG Strix G512LI-HN094T Gaming Laptop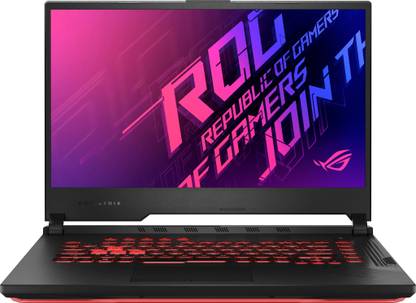 | | |
| --- | --- |
| Display | 15.6 Inch (1920 x 1080) Full HD LED Backlit Anti-glare IPS Display |
| Processor | Intel Core i5 (10th Gen) Processor, 2.5 GHz with Turbo Boost Upto 4.5 GHz |
| RAM | 8 GB DDR4 |
| Graphics Card | 4GB – NVIDIA Geforce GTX 1650 Ti |
| Storage | 512 GB SSD |
| DVD Writer | Not Available |
| Web Camera | HD Camera |
| Battery | 3-cell |
5. Dell G3 3590 Gaming Laptop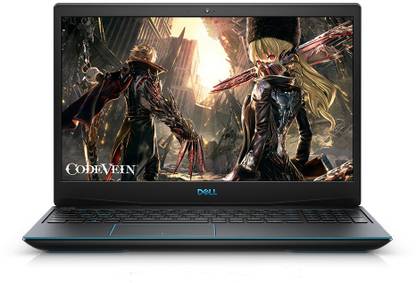 | | |
| --- | --- |
| Display | 15.6 Inch (1920 x 1080) Full HD LED Backlit Anti-glare IPS Display |
| Processor | Intel Core i7 (9th Gen) Processor, 2.6 GHz with Turbo Boost Upto 4.5 GHz |
| RAM | 8 GB DDR4 |
| Graphics Card | 4GB – NVIDIA Geforce GTX 1650 |
| Storage | 512 GB SSD | 1 TB HDD |
| DVD Writer | Not Available |
| Web Camera | HD Camera |
| Battery | 4-cell |
   BUY FROM FLIPKART    BUY FROM AMAZON
6. Acer Aspire A715-75G-50SA Gaming Laptop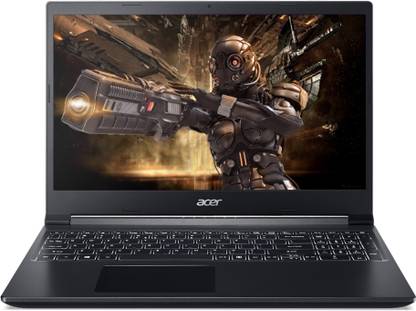 | | |
| --- | --- |
| Display | 15.6 Inch (1920 x 1080) Full HD LED Backlit TFT Display |
| Processor | Intel Core i5 (9th Gen) Processor, 2.4 GHz with Turbo Boost Upto 4.1 GHz |
| RAM | 8 GB DDR4 |
| Graphics Card | 4GB – NVIDIA Geforce GTX 1650 |
| Storage | 512 GB SSD |
| DVD Writer | Not Available |
| Web Camera | HD Camera |
| Battery | 3-cell |
7. Dell G5 5505 Gaming Laptop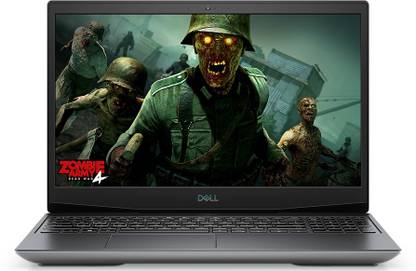 | | |
| --- | --- |
| Display | 15.6 Inch (1920 x 1080) Full HD LED Backlit Anti-glare IPS Display |
| Processor | AMD Ryzen 5 Hexa Core Processor, 3.0 GHz with Turbo Boost Upto 4.0 GHz |
| RAM | 8 GB DDR4 |
| Graphics Card | 6GB – AMD Radeon RX 5600M |
| Storage | 512 GB SSD |
| DVD Writer | Not Available |
| Web Camera | HD Camera |
| Battery | 3-cell |
8. Dell G3 3579 Gaming Laptop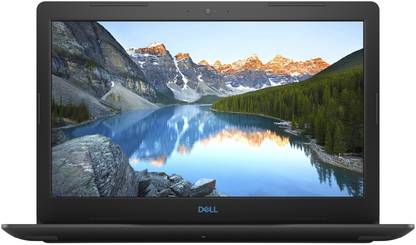 | | |
| --- | --- |
| Display | 15.6 Inch (1920 x 1080) Full HD LED Backlit Anti-glare Display |
| Processor | Intel Core i5 (8th Gen) Processor, 2.3 GHz with Turbo Boost Upto 4.0 GHz |
| RAM | 8 GB DDR4 |
| Graphics Card | 6GB – AMD Radeon RX 5600M |
| Storage | 128 GB SSD | 1 TB HDD |
| DVD Writer | Not Available |
| Web Camera | HD Camera |
| Battery | 4-cell |
   BUY FROM FLIPKART    BUY FROM AMAZON
9. Asus VivoBook F571GT-AL319T Gaming Laptop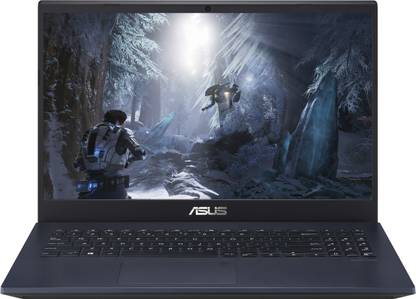 | | |
| --- | --- |
| Display | 15.6 Inch (1920 x 1080) Full HD LED Backlit Anti-glare Display |
| Processor | Intel Core i5 (9th Gen) Processor, 2.4 GHz with Turbo Boost Upto 4.1 GHz |
| RAM | 8 GB DDR4 + 32 GB Optane |
| Graphics Card | 4GB – NVIDIA Geforce GTX 1650 |
| Storage | 512 GB SSD | 1 TB HDD |
| DVD Writer | Not Available |
| Web Camera | HD Camera |
| Battery | 3-cell |
   BUY FROM FLIPKART    BUY FROM AMAZON
10. Asus ROG Strix G G531GT-BQ024T Gaming Laptop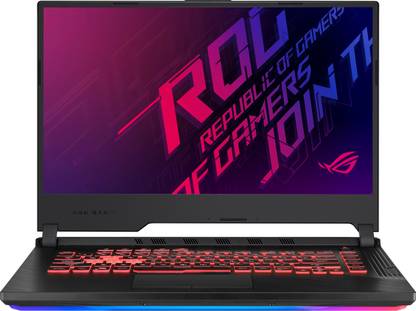 | | |
| --- | --- |
| Display | 15.6 Inch (1920 x 1080) Full HD LED Backlit Anti-glare Display |
| Processor | Intel Core i5 (9th Gen) Processor, 2.4 GHz with Turbo Boost Upto 4.1 GHz |
| RAM | 8 GB DDR4  |
| Graphics Card | 4GB – NVIDIA Geforce GTX 1650 |
| Storage | 256 GB SSD | 1 TB HDD |
| DVD Writer | Not Available |
| Web Camera | Not Available |
| Battery | 3-cell |
   BUY FROM FLIPKART    BUY FROM AMAZON
---
Laptops under Rs.60000 | Laptops under Rs.40000 | Laptops under Rs.20000 | Best 10,000 mAH Power Bank | LED TV Under Rs.25000 | Sony Headphones Under 5000